While a baby is turning the age that is suitable for first solid foods and snacks, young parents feel confused once again because they need to adjust and find some options of feeding that will be healthy and beneficial for their little ones. The transition from mother's milk or baby formula to solid foods it's not an easy step, but it is a step that every parent must go through in order to ensure the proper growth and development of the child.
It is a common thing for parents to be careful with their first baby food as there might be some possible adverse reactions such as allergy, diarrhea, skin rash, or others. Or the other way, parents are a little irresponsible and give their little one snacks in the wrong quantity or with harmful content. Keep in mind the main functions of a snack: it should be healthy, easy to chew, in the right portion size, and capable of overcoming hunger and nutrition. So, let's talk about some recommendations on how to make your baby's snack as good as possible.
Why does your child need it?
Having a snack is an essential part of your child's diet. While getting older, they become more active, that's why they demand more and more food and nutrients to get enough energy for everyday actions. So, no wonder your little one becomes slightly hungry between two meals. As studies show, the best eating routine for your little one is three meals and two snacks. So your task is to fulfill an interval between meals with a healthy and boosting snack. It's pretty beneficial because a baby has fuel to move and develop and prevents excessive weight.
How should your baby consume a snack?
You definitely should bear in mind some basic rules connected to feeding your baby with a snack. Products your loved one consumes will affect their health and well-being. So it should be full of nutrients such as vitamins, minerals, healthy fats, carbohydrates, and others. So make sure you choose foods to complete your baby's needs in each component. That's why it's essential to make your child's diet diverse and give different types of vegetables, fruits, meat, fish, dairy products, cereals, and so forth. It will enrich your baby with all the necessary elements.
Some parents show overprotection to their little ones and give them too much food. But, be sure that a large portion of snacks will not benefit your baby but rather harm. The primary function of a snack is not to make your baby complete but to tide kids over until the next meal. So keep that in mind and find a suitable portion for your baby. Ask a pediatrician to calculate a portion size according to the baby's age and weight. Moreover, you can use measuring bowls as they will help keep the portions' height the same.
Another tip is to go along with the eating schedule and teach your baby to consume food simultaneously. To feed your baby every time they cry is a mistake that can lead to obesity. Children shouldn't get used to constant eating because it will have some negative consequences in the long run and discourage them from having a well-balanced meal. So a good schedule can be eating a snack 2 to 3 hours after dinner and 1 to 2 hours before the next.
So what snacks are recommended for babies?
As said earlier, you need to make your child's diet as diverse as possible. So let's talk about some kinds of food that you can feed your baby.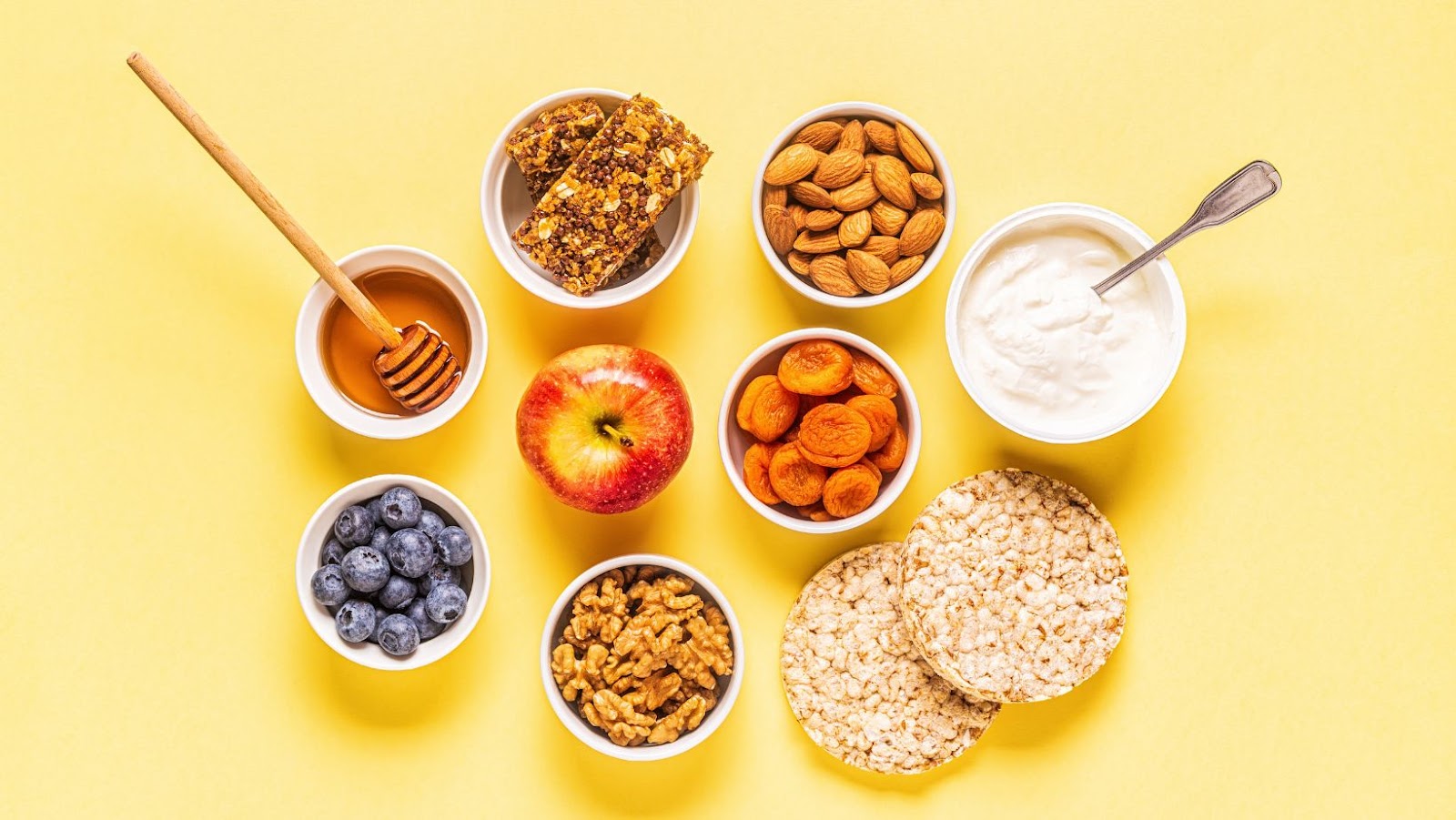 What can you serve to your baby?
Six months onwards is a perfect stage when you can introduce some snacks because babies around this age become slightly hungry between meals. Generally speaking, all the food you give should be soft and easy to chew. The good idea is to provide smooth, fresh fruits like bananas, apples, kiwi, mango, peaches, pears, and different berries. So you can quickly chop it into small pieces, and your little one will enjoy it.
Vegetables are also fast to cook, and children like them. So you can steam broccoli, cauliflower, carrot, sweet potatoes, peppers, zucchini, string beans, and others, and they will be great snacks.
Don't be afraid of introducing dairy products. Some parents avoid them not to cause allergic reactions, but it is recommended to use them but not in large quantities. So you can give your baby cottage cheese or yogurt with fruits, hard-boiled eggs, or egg muffins.
Meat also plays a crucial role in your child's diet. It is a source of high-quality protein that gives your little one energy to move and develop. A Baby's stomach is so delicate and tender during the first year of life, so it's better to start with white meat (chicken and turkey) as it will be easier for the child to digest.
But one of the most important rules about cooking for your baby is not to add sugar, salt, or other additives. Be sure your little one will enjoy the pure taste of food, and you will keep your child away from unnecessary things as long as possible. Moreover, try to save all the healthy elements inside the products by cooking them correctly. You can boil, bake or steam. The food will still be attractive and will retain all value.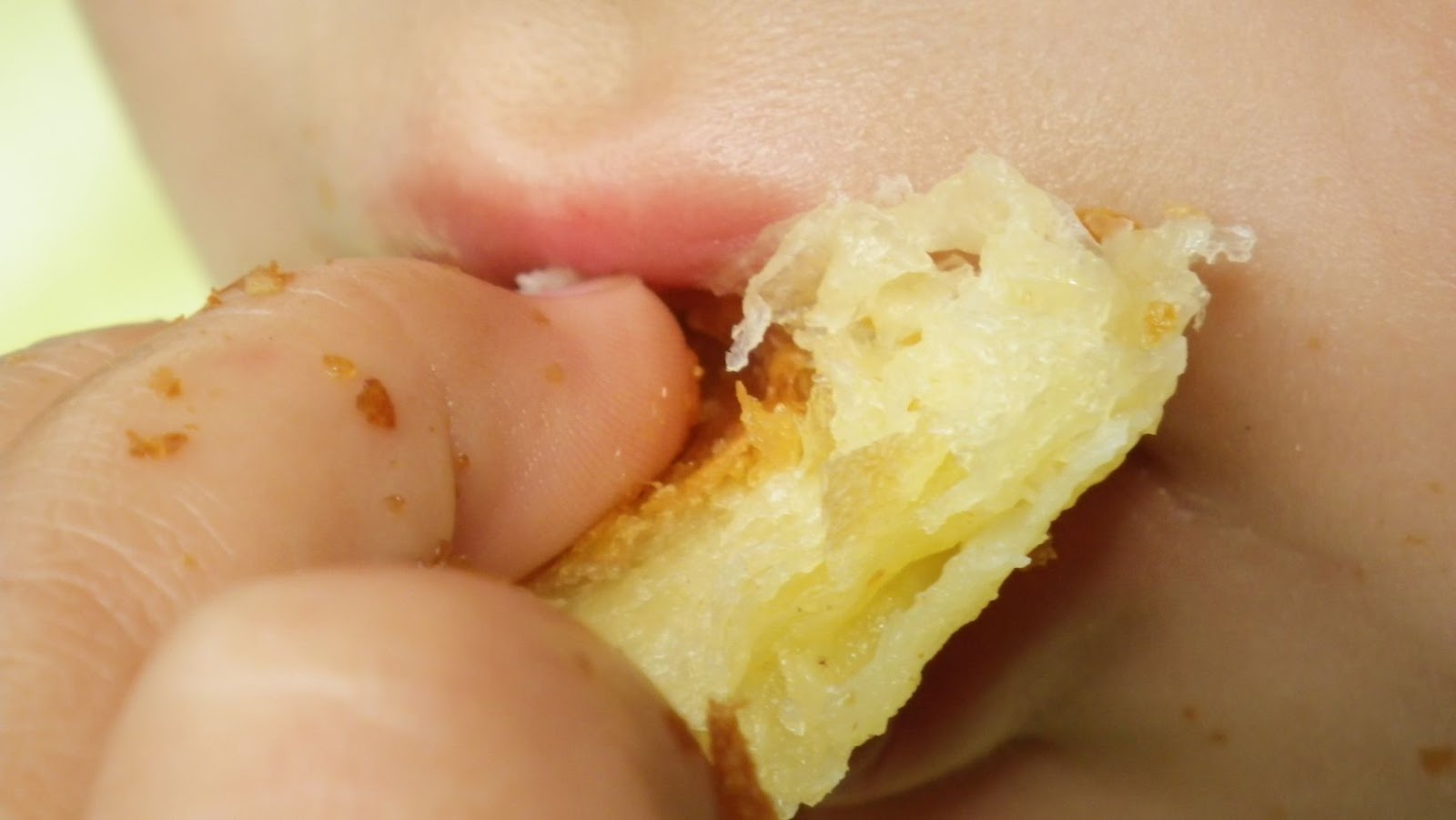 Organic baby pouches as a good option for a snack
There are so many brands that offer organic baby pouches. It's a great snack option if you lack time for cooking or you should feed your baby on the go or during a trip. You can buy an organic baby pouch at an affordable price and be sure that your little one will get a new portion of vitamins, minerals, and other nutrients that will help them to overcome hunger. Baby pouches are created with a wide range of tastes and content. So you can find vegetable-, fruit- or meat-based ones. Choose one that your baby needs and likes and it will save your time or make your baby satisfied.
So there are quite different options for a healthy baby snack. So, take these pieces of advice into account and be healthy!