If you have been thinking about shipping your car across the US or even to other continents, you're at the right place! When thinking about shipping your car, several factors come into play. What is the average cost? Insurance? Reliability of the service? Time? There are an endless number of factors; however, today, you'll find this information from a1autotransport.com.

Let's start with some broad assumptions because I'm clearly unfamiliar with your specific requirements. However, these assumptions will be as close to the average American as possible. If you own a standard-sized car, you're in luck because you won't have to pay nearly as much as other types of vehicles, such as trucks or SUVs. If you have an SUV, it may cost you a little more, but don't worry because you'll find the most competent and affordable services in this blog alone! Allow me to first bring up my handy car shipping cost calculator and enter the final figures. 
Average Car Shipping Cost
On average, it costs more to ship a car with an auto transport company than it does for a long-distance move. According to Forbes, the average cost of shipping a car is $2.00 per mile for less than 200 miles. But it falls down to an average of $0.58 per mile for long-distance moves exceeding 1,500 miles.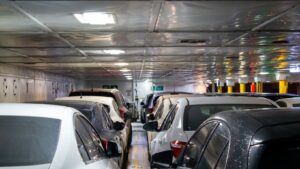 In the US
Cars
Route

Cost

Midwest

→

East Coast

~ 679 Dollars

Midwest

→

West Coast

~919 Dollars

South

→

North

~719 Dollars

East Coast

→

West Coast

~1,109 Dollars
In the US
SUVs
Route

Cost

Midwest

→

East Coast

~789 Dollars

Midwest

→

West Coast

~819 Dollars

South

→

North

~1,069 Dollars

East Coast

→

West Coast

~1,279 Dollars
The numbers may appear intimidating, despite the fact that they are quite simple. Simply reading until the end of this article will provide you with nearly everything you need to know in order to understand the important details when deciding on the services.
How Do I Get The Lowest Price Possible?
If heavy budgets aren't your thing, you're at the right place. In order to save as much money as possible, there are three very important factors to take into consideration.
Time of the year
The time of the year matters as, during the fall-winter time, people often migrate, which inflates prices. Being flexible can help you reduce your car transport costs.
Standard Size
Rather than selecting the big carriers, perhaps consider choosing a regular-sized carrier, perhaps even an open carrier, to slash unnecessary costs while transporting a car. However, before you choose this method, be sure to check weather forecasts to avoid any future troubles.
Insurances
If you at present have amazing insurance which covers costs for most damage, you can play a bit risky with the price and set an exceptionally minimal price. However, it is not advisable as these types of services can be quite a hassle.
Balancing Cost And Quality When Choosing Car Transport
We get it; it doesn't feel very nice when you have to pay a significant amount of money just to get your car from one place to another. However, would it not feel even worse to lose your car to a scam or a careless company? Hence, it is crucial that you choose a reliable price point at which YOUR risk is very low.
Some factors to look for before you consider your final choice:
Accreditations and Ratings: You should check out the Federal Motor Carrier Safety Administration and Better Business Bureau. 

Years in business 

Insurances + Guarantees 

Straight-forward auto shipping 

Auto transport quotes: Beating around the bush with car transport quotes is a bad sign.

How much does international or domestic transport cost?
The average cost to ship a car is about 1,000 dollars to 5,000 dollars for the standard service over water. However, if you wish to go for air travel instead, you can expect a budget of 5,000 dollars to about 40,000 dollars. Unlike transport within the US, there are many more factors that influence the cost of international shipment.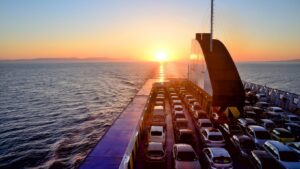 A few examples include:
Distance between ports/Distance of transport.

Type of vehicle

Method of shipment

The popularity of the route

Time of the year

Additional charges, taxes, and fees
Moreover, you also need to take the port charges of your destination and the costs of hiring an agent who can get your car through customs. Choosing less-popular ports can help you cut costs; however, traveling towards your original destination by car can be a waste of time and money.
What Are The Necessary Documents For International Car Transport?
Proof of ownership, bill of sale, or notarized lien authorization.

Vehicle's year of make, model, and identification number.

At least two to three copies of government-issued identification (Passport)

Payment information; bank statement regarding the service.

Personal information; name, phone number, etc.
Having these documents and related information can help make your car shipping a smooth process and help ease your way to avoid unnecessary stress. These are essentials which should be followed by the shipping company as well. If you notice any corners being cut by the company, you should reconsider.
Final Thoughts
As said before, it is quite important to balance quality and price while taking accreditations into consideration. The type of car/vehicle and the type of transport can heavily influence your price range and time consumption. Hence, understanding the methodology of the company offering services is quite important. Finally, keeping required legal documents and important information handy is very important in order to ensure a smooth transition while getting your car shipped.