Fixed wireless internet is a rather trendy addition to the options of internet connectivity in recent times. Although wireless technology has been around for two centuries, fixed wireless as an internet source is a fairly new market. And it continues to grow and expand each day. Fixed wireless is convenient to set up and can be done so anywhere. The internet gives us decent internet speeds, has better rates in the market and all in all, a great choice when you have limited internet options. 
Fixed Wireless internet, however, has only a small degree of reach when compared to DSL and cable internet providers in the US. It does not hold a cent to the glory of the high-speed internet connections like cable and fiber, but the truth is, in some places, it is the glory. In the rural areas and the suburbs, where cable and fiber internet is limited, fixed wireless internet is your saving grace.
Of course, there are always questions that we often wonder about. What is fixed wireless internet, and how does it work? What are the top providers in the US dealing in fixed wireless? Well, this article today addresses all that and then some. So, grab a cup of coffee and sit back to read about this technology in detail!
What is Fixed Wireless Internet?
Fixed wireless internet is a service type that is delivered using wireless signals from one point to another. Since the transmission is so direct, you can expect decent speeds, but there can be some interferences at times too. The purpose of fixed wireless internet is to enable data communications between two or more buildings, areas, or more. This technology type is not just more economical in the long run but also saves you thousands of dollars worth in infrastructure costs. Wireless internet is super convenient, which makes it so popular with people. 
How does Fixed Wireless Internet work?
The mechanics of a fixed wireless internet is pretty simple and functions as a huge, airborne microwave. At the backend, with a tall tower in place, a connection is made with the internet via a fiber or cable, hard-wired network. Next, the tower dissipates the internet into wireless signals, which are then picked up by many wireless access points within your vicinity. These access points have a placement at strategic places like tall buildings and such to always get a viable signal. The antenna at your house then communicates with the closest access point in your vicinity to get you an internet connection.
Since Fixed Wireless Internet depends upon a stationary or fixed backend with beam connectivity, it is vital to have a roof or nice big windows to let the signals in. Wireless connection as such as affected by other unseen signals hanging around in the area. Hence, fixed wireless may not be the best choice if you live in crowded metro cities with thousands of signals floating around, for they may cause interference. 
Equipment used for Fixed Wireless Internet
All internet types need some basic equipment on set up before the service can work, and wireless internet does too. The equipment is nothing too fancy, but to do have to bear in mind that it comes with some setup cost. More often than not, you will be able to get all the equipment from your ISP at an easy monthly rental. You will need;
Antenna:

 This is one of the very first things to get when you think about wireless internet. You need an antenna to receive and intercept the wireless internet signals.
Modem:

A modem is necessary with all internet connections, be it wireless or cable. It translates the analog signals and converts them into digital information so your devices can process them easily. 
CAT 5 cable: 

This cable connects your modem to your router so you can receive internet in your home. You can keep it tucked away in a corner somewhere, so it does not mess with the aesthetic of your house.
Router:

Lastly, the router receives information through the modem via a cable of sorts and makes Wi-Fi signals. If you want to use your internet on multiple devices without plugging into a cable, a router is necessary for your network. 



Perks of using Fixed Wireless Internet
Fixed Wireless internet comes with some clear advantages that make it a remarkable choice. What are the pros of choosing wireless internet, you ask? Well, we have a quite comprehensive list here.
Far, Wide (and Wireless) Availability
One of the best reasons to get wireless internet is the availability it has. Since it requires no direct lines to your house, Fixed Wireless internet is available to a large number of people across the states. An estimate of around 45% of the country has ready access to wireless internet, and the percentage keeps on going up. 
Fixed wireless internet is of great use, especially in rural areas where other modes of the internet like cable and fiber are unavailable. It has better speeds than some wired connections and can be a good investment if you have a good access point in your vicinity.
Decent Internet Speeds, low Latency, and High Data Allowance
The speeds for wireless internet connections typically range between 3 to 1000 Mbps in most regions. The upper end of the speed range (1000 Mbps) is usually available to business customers only. However, you can expect an average speed of 50 Mbps which is more than enough for use in a standard US household. It is a lot better than most DSL providers who offer lower speeds on average. 
One other advantage of wireless internet is that since it is close to a wireless source, mostly within a ten-mile radius, latency is very low. This makes it best for gaming and other high-speed, low latency connections, such as streaming and conference calls. There are essentially no lags which is a big problem with satellite internet connections and DSL internet.
Finally, fixed wireless internet providers are very generous with their data allowance. Most of these providers offer unlimited data allowance, which is a sharp contrast against DSL as well as satellite internet plans. Even wireless internet connections that do have data caps have very high ones ranging between 300 – 700 GBs, so you don't have to spend a fortune looking for a plan that meets your needs. 
Economical Pricing Plans
Wireless internet plans are not the cheapest in the market, but they are far more affordable than some of the providers out there. Especially in comparison to satellite internet plans that kind of leave you broke at the end of the month, wireless internet pricing plans are a breeze. The pricing plans range between $35 to $99 per month and, like DSL internet plans, give you great value for your money, in addition to likable speeds. 
Cons of using Fixed Wireless internet
As great as Fixed Wireless Internet is, it does come with some downsides, like everything else. Although not too intense, there are some disadvantages of using fixed wireless internet that may not work for you. We have compiled them in the following passage to help make the process easier for you. 
Set up Costs and Monthly Equipment Rentals
An antenna, dish, or receiver needs to be set up for your internet to work. While some providers offer free equipment set up at the beginning of your contract, you would still have to pay a monthly rental for all the leased equipment.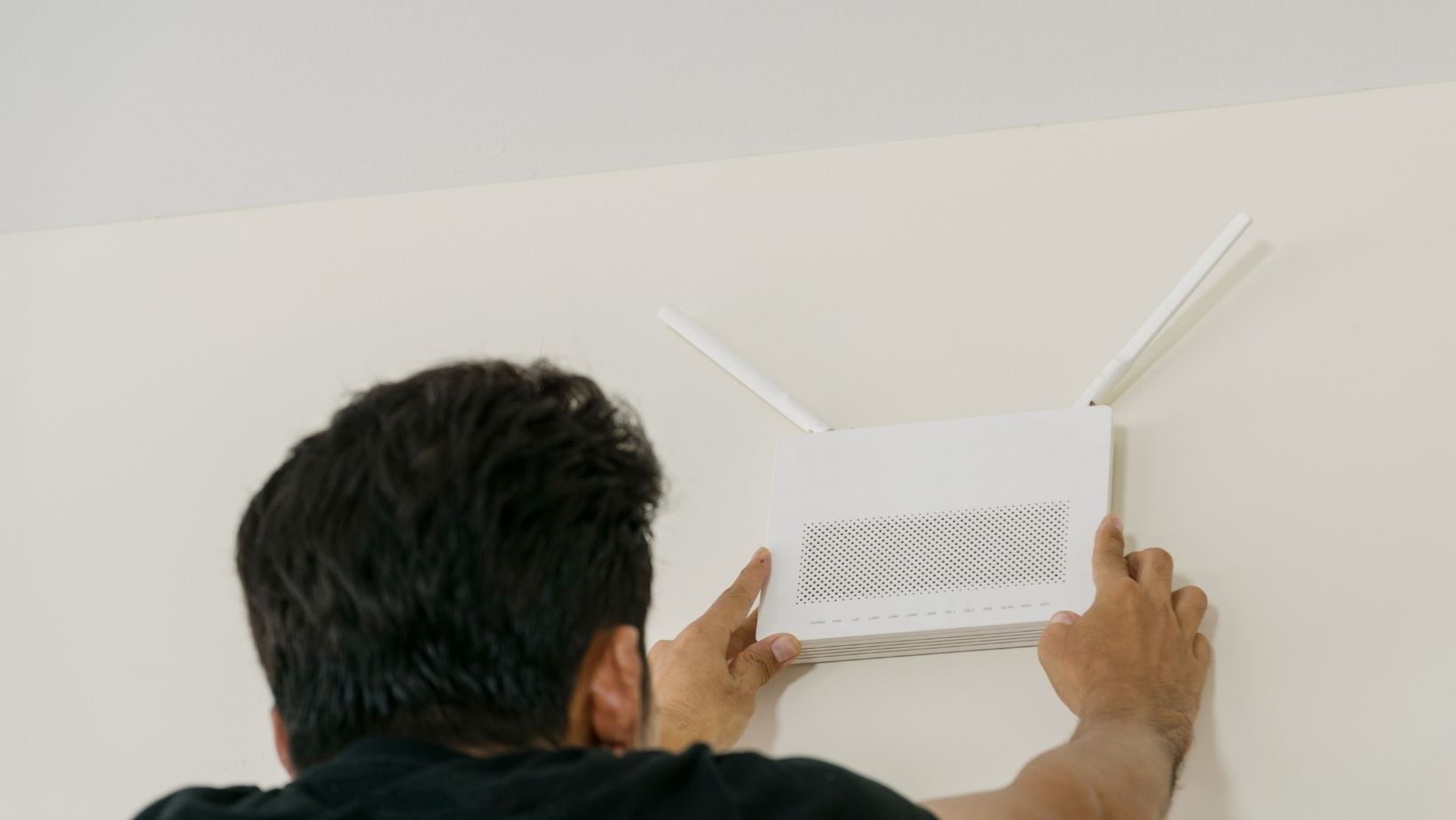 Then again, some providers may charge you for the initial setup costs, which can make a big dent in your wallet. If you want to save on that front, however, you can always go out and buy your own compatible equipment to cut down on the costs. 
Weather is a Downer in the Game
With fixed wireless internet service, you will learn that all is great when it is sunshine and rainbows. However, things take a turn for the worse when the weather starts acting up. If you have a wireless internet connection, expect downtimes or degraded service during storms, heavy rainfall, snow, or other instances of bad weather. 
Obstruction Equals Bad Service
A fixed wireless internet connection depends upon a clear path between the sender and receiver antennas. If anything is obstructing this path, it may reduce the efficacy and efficiency of your internet service. Hence, it is vital to have your receiver antenna up on the roof, so it is unaffected. Tall buildings or a growing tree can interfere with the distribution of signals and, therefore, your internet quality. 
Wide spaces like rural areas, where houses are well apart, work best for fixed wireless internet. In crowded New York City apartments, the city of skyscrapers, not so much. So, you have to be mindful of your surrounding area before you sign up for wireless internet.
Leading 5 Fixed Wireless Internet Providers and Pricing Plans
There is a certain limitation when it comes to fixed wireless provision. Not many providers in the industry provide fixed wireless, to begin with, and even now, the availability is somewhat limited. However, we have tabled some of the best fixed wireless internet providers in the industry and their pricing plans. The table is followed by a short description of the providers and what you can expect from them.
| | | | |
| --- | --- | --- | --- |
| Internet Provider | Max. Download Speeds | Data Allowance | Pricing Plans |
| | | | |
| Rise Broadband | 25-50 Mbps | 350 – 700 GB | $35 – $65/month |
| Starry Internet | 200 Mbps | Unlimited | $50.00/month |
| Nextlink | 50-100 Mbps | Unlimited | $50-$140/month |
| AT&T Fixed Wireless | 25 Mbps | 350 GB | $69.99/month |
| Everywhere Wireless | 20 -2000 Mbps | Unlimited | $29 – $99/month |
| | | | |
Fixed Wireless Internet Provider Worth its Price
Starry internet, by far, is the wireless internet provider giving you the best value for your money. It is widespread in many states, including California, New Jersey, Virginia, The District of Columbia, and New York. It is transparent with its pricing and hence a crowd favorite. 
Some of the things that set Starry Internet apart is its offer of free installation and a Wi-Fi router, plus unlimited data and speeds that can reach 200 Mbps. You also get complete control of your internet health and progress and control various other elements of your home network. It is one of the best providers, with the best and most affordable plan as setup, and there are no contracts, which is the cherry on the top. 
Starry internet also has great customer service, all of which makes it seem too good to be true. 
Fixed Wireless Internet Provider With Most Availability
Rise Broadband is one of the most available of all fixed wireless providers. It offers a variety of plans that make it a go-to option for many US residents. It is available in many cities and serves far more customers than any of the other fixed wireless providers. It does have unlimited data plans too, but they cost a little smidge more than the capped ones.
However, Rise Broadband comes with contract chains and all sorts of add-on fees and charges, plus installation costs that are a whopping $149. Rise Broadband has a monthly equipment rental of $11 per month and data overage charges of $5 for every 10 GB, which can be quite a bummer.
Fixed Wireless Internet Provider with the Highest Speeds
Everywhere wireless may have a limited reach in terms of coverage, but it is one of the best providers out there, speed-wise. It serves a chunk of the market in Illinois but has a provision in other states too. Everywhere wireless uses both fiber and fixed wireless; hence is able to provide blazing fast speeds of up to 2000 Mbps. The service also has a gorgeous uptime rate of 99.99%, which is one of the best in the industry.
Everywhere internet does come with contracts, but they are typically month-to-month. The pricing is straightforward and transparent, and all taxes are included in the pricing itself. The customer service at Everywhere wireless is top-notch, and people seem very happy with the support as well as the service. 
Wrapping up This Discussion
Fixed Wireless Internet is one of the more widely available forms of wireless internet. It is quite different from the conventional DSL and Satellite internet and is much more diverse in options. The providers we have mentioned are worth a second look if you are thinking of going for wireless internet. You can also consider Nextlink internet if you are commitment-phobic and can't make contracts (although you do get some discount if you get one). If you are looking for something more inclusive with good speeds, AT&T Fixed Wireless may be the best bet for you. 
Living in rural areas can be quite tough if you don't have good internet available. Luckily fixed wireless internet makes this journey much easier. After all, who doesn't like having a high-speed internet connection without the hassle of wires all around the house?
I know I do!