Feeling cramped in your small apartment? If so, don't worry. There are ways to make your place feel bigger without moving.
These hacks can help you maximize the apartment space you already have:
1. Declutter
The first step to maximizing your apartment space is to declutter. After all, you probably have stuff you don't really use that's taking up valuable space.  So go through everything you own to see what you can do without. A good rule of thumb is to get rid of things that you haven't used in over a year.  Keep in mind, however, that you don't have to throw things in the trash. You can also sell or donate them. The goal is just to make space by removing what you don't need.
2. Get Organized
Next, get organized. Every loose item in your apartment should have a dedicated place, whether that's on a shelf or in a bin, drawer, or closet. By keeping everything organized, you'll limit clutter and prevent things from getting lost and forgotten about.
3. Try a Minimalist Design
When it comes to design, keep things minimal. Having too many furnishings and decorations can make your apartment look smaller than it actually is. Try to design the apartment around how you use it, such as to sleep, eat, and work.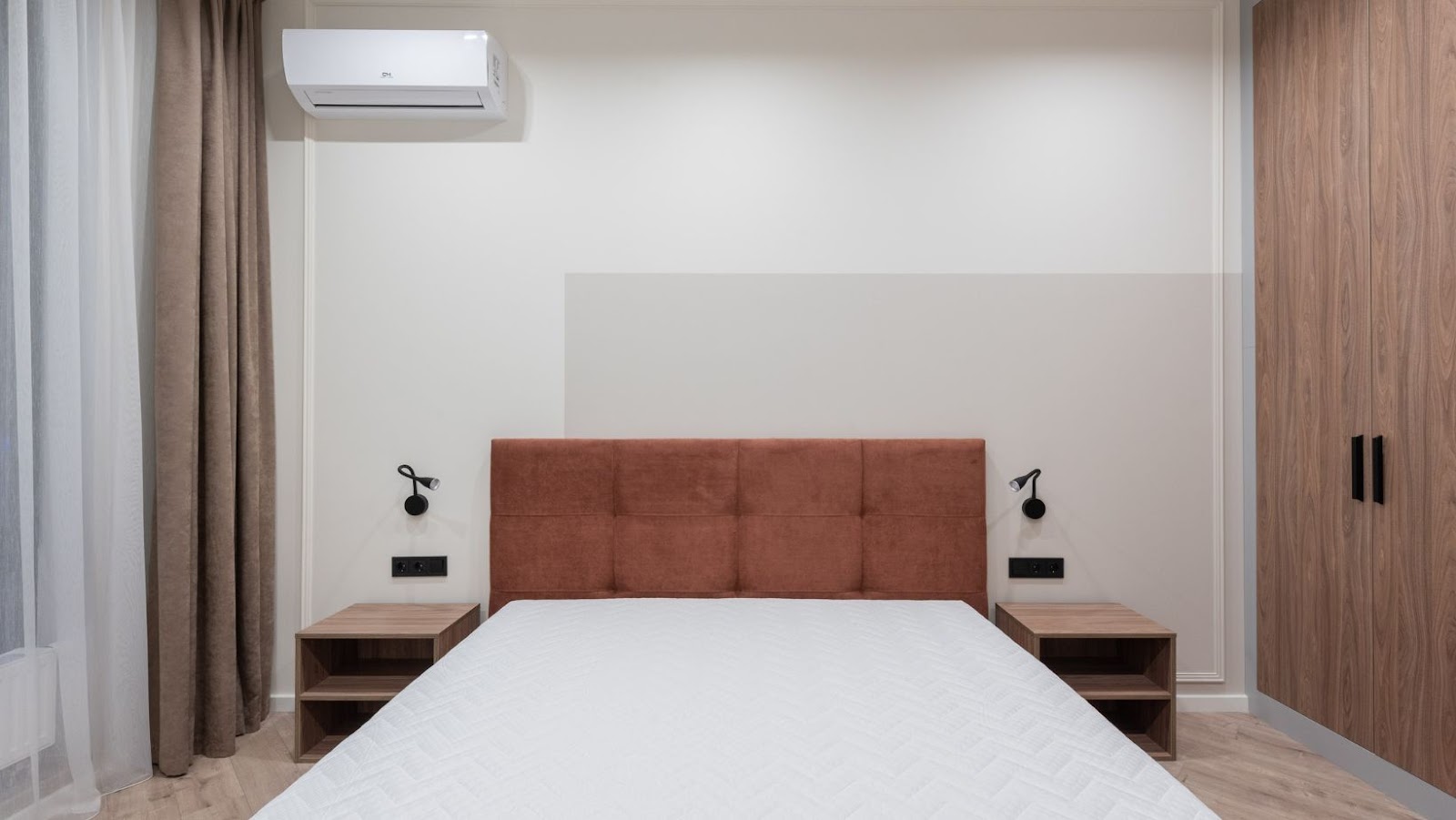 That means you don't need a giant TV cabinet to hold DVDs if you only ever watch things on streaming services like Netflix. Design your apartment around its essential functions.
4. Get Creative with Furniture
The biggest items in apartments tend to be furniture, but there are ways to limit how much space they take up. For one, you can opt for light over bulky furniture. For example, if you can get away with a loveseat instead of a massive couch, do it.
You might also consider getting tables and chairs with exposed or even acrylic legs or bases. This will make them easier to see through to give the illusion of more space. In addition, consider getting a Murphy bed or desk. These can fold into the wall when you're not using them to add more living space to your apartment.
The same goes for loft beds and beds with underneath storage space. Multi-functional furniture can be your best friend. When it comes to shelves, open shelving and floating shelves (on walls) can be a great way to make the space feel more open. Whatever you do, try to keep furniture pushed as far against walls as possible to maximize every bit of available space.
5. Play with Color and Light
Though they don't have an actual effect on space, lighting, and color can impact how big your apartment feels. If you have windows, for example, letting the natural light in can help illuminate your apartment space. Similarly, white or light-colored walls can help make your apartment look bigger. Just make sure to check with your property manager before you repaint anything.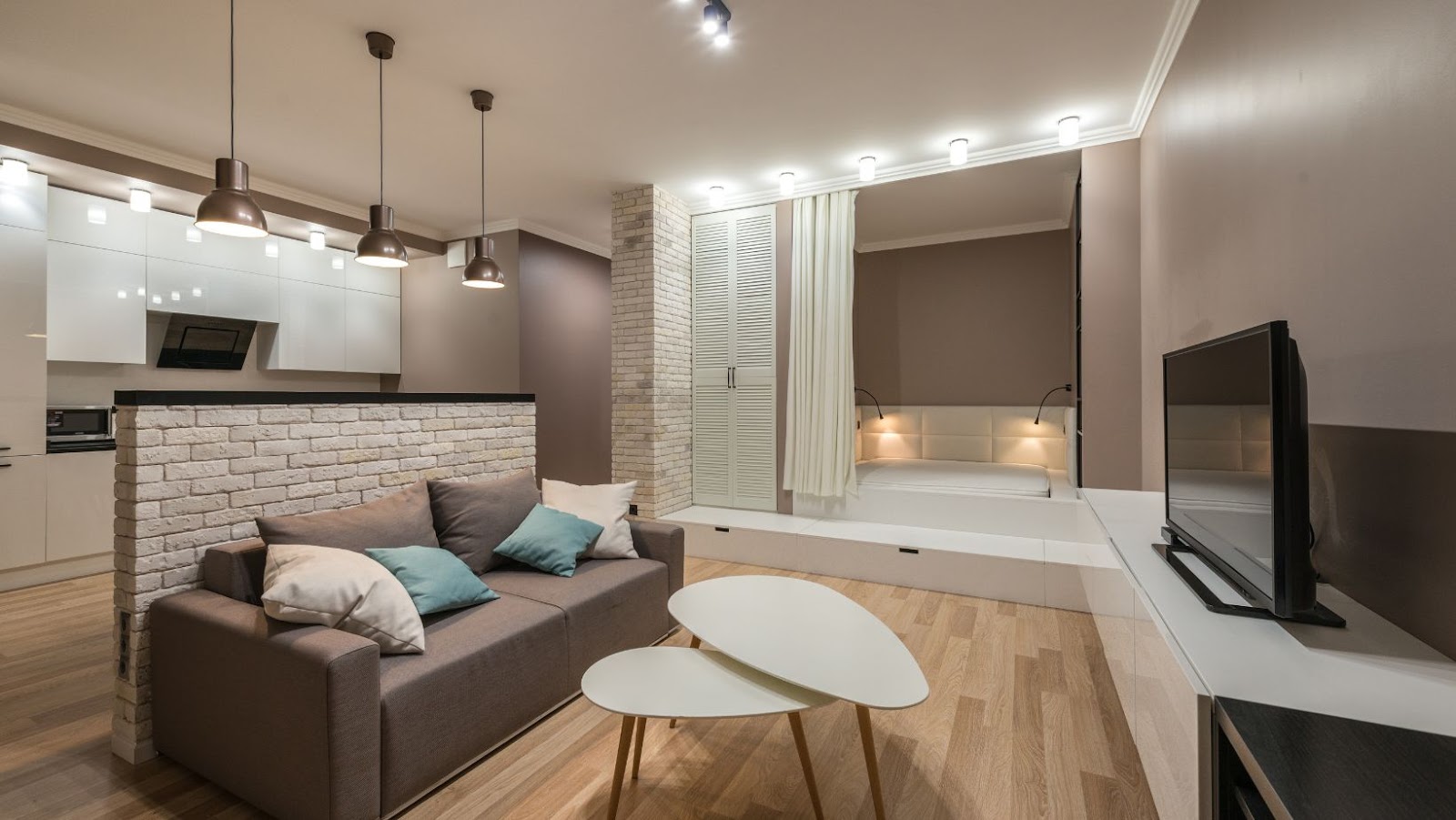 Speaking of painting, you can also paint some furniture the same color as the walls to make them blend in. This will help it feel like there's more space, too. One final trick is to hang mirrors on your walls. These can create the illusion of added depth and help reflect light to further illuminate the space.
6. Create Divisions
Creating artificial divisions in your apartment is another way to give the impression of more space.  For example, if you live in a studio apartment, you can get a room divider to partition your kitchen from the living space. To maintain an open feel (and help direct extra light), you can even get glass or mirror dividers.  Alternatively, you can separate space by creating different levels. For example, you could lift your bed onto a platform for a sense of contrast.
7. Take Advantage of Vertical Space
Lastly, think vertically to make the most of your space above.  For example, you could store things on top of closets, above doors, or on top of shelves. Or you could get a wire rack to hang pots and pans on, freeing up cabinet space. You can also highlight your ceiling height with tall bookshelves or curtains.  The idea is to not let valuable vertical space go to waste.
Final Thought
Living in a small apartment can be challenging. But with a little creativity, you can maximize how much space you have and how big it feels. Try a few of the above tips today and see if they make a difference!