Light therapy is considered to be one of the best therapy methods available. Whether you suffer from depression, insomnia, or even skincare issues, light therapy has proven to be one of the best remedies of all.
Researchers have gone through a lot of tests and research to discover the benefits of this amazing treatment alternative. Moreover, these therapy treatments are harmless and haven't shown any significant side effects to their users.
So, in this blog post, you'll have the ultimate guide to red light therapy and all the necessary information regarding its possible treatments and benefits. Therefore, keep reading till the end to know it all!
Red Light Therapy and its Brief Study
RLT uses low-level wavelengths to treat skin issues like scars, chronic wounds, wrinkles, and more.
Scientists even utilized this approach to harvest vegetables and plants in space in the 1990s. They also discovered that strong red LED light can aid enhance photosynthesis and plant cell growth.
Moreover, it has also been discovered that red light therapy can also enhance the energy within human cells.
Researchers anticipated RLT could treat muscular atrophy, bone density issues, and also poor wound healing caused by weightlessness during space travel.
These therapy devices also have different names and terms. Here are some of the terms you need to be familiar with:
Cold laser therapy 

LLLT (Low-level light therapy

PBM (Photobiomodulation)

Biostimulation
In many cases, red light therapy can also be used with various medications that can make your skin more beautiful and glowing. This entire process is called "photodynamic therapy."
There are different types of red light therapy, so you have different options to choose from. For example, red light beds are pretty much available in many salons, where they help people with stretch marks and wrinkles. It's also possible to get red light therapies from a doctor's clinic to help with things like slow-healing wounds and the effects of chemotherapy.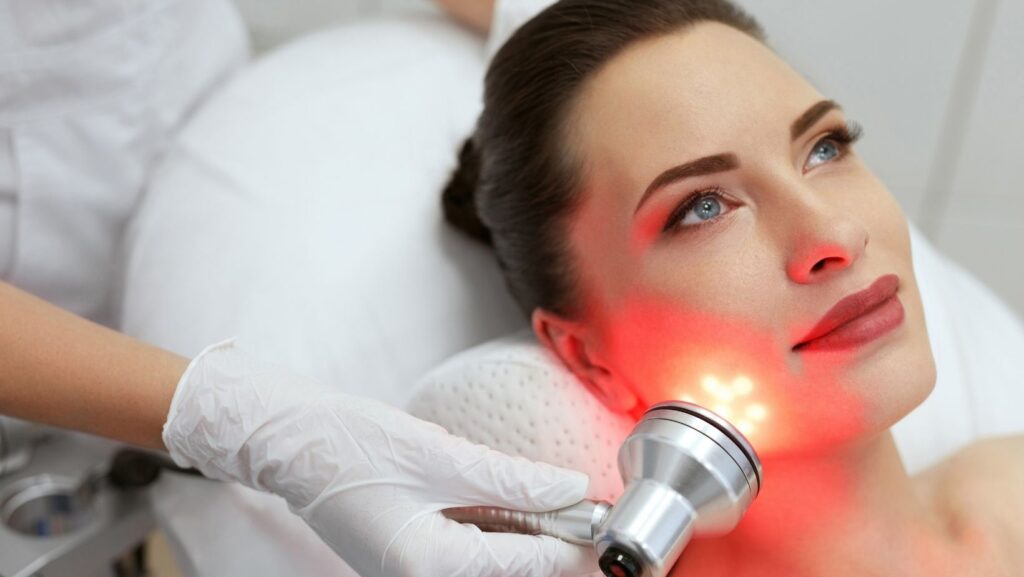 You can even use red light therapy at home. To know more, visit- https://platinumtherapylights.com/blogs/news/red-light-therapy-at-home
There is a lot of evidence that RLT is one of the best ways to treat people. This treatment method has many more medical benefits that are still unknown to researchers.
How does Red Light Therapy Work?
Many scientists believe RLT works by causing some kind of biochemical reaction inside cells that provides energy to your mitochondria. It is the powerhouse of the cells where all the energy comes from.
The mitochondria's ability to work improves when you consistently use RLT. This means the cells can make more ATP.
In contrast, with a little extra energy, cells can work even better, which leads to the repair of your damaged cells.
And the best thing about RLT therapy is that it doesn't hurt or damage the skin, like laser therapies. Lasers therapies can only work if they cause damage to your outer layer of skin. After that, your body starts to repair itself.
In short, RLT doesn't do anything like that. Instead, it skips right over the skin's outer layer and starts to fix the damaged tissues and cells inside of it.
However, red light therapy might be the best treatment for many conditions, but it's not the ultimate cure for all kinds of conditions.
Below are some of the treatments that red light therapies are guaranteed to work:
Treats SAD, postpartum depression, and depression

Decreases cellulite

Cures acne

Treats back and neck pain

It helps to lose weight

Enhances the immune system
These are some of the conditions that RLT can help to overcome. However, it's still recommended to consult with your doctor before you go on taking any of these therapy sessions.
Possible Risks With Red Light Therapy
Although there are not many risks associated with RLT, there are still chances to face some issues while going through these therapy sessions.
Nausea

Headache

Agitation

Mania hyperactivity
However, not everyone faces these kinds of issues, yet, if you still find any such symptoms, don't hesitate to consult with your doctor as they can suggest a better alternative.
Red Light Therapy and its Uses
Many studies have shown positive outcomes with red light therapy. Researchers found that red light therapy has a lot of uses that can actually benefit users in many ways.
Here are some of the evidence that shows the benefits of RLT:
It helps to stimulate hair growth

Decreases the number of psoriasis lesions

Improves the skin and reduce wrinkles

Reduces the side effects of cancer

Heals damaged tissues and cells

It helps to fade scars

Helps with sun damage

Relieves from Achilles tendon pain
Further Benefits of Red Light Therapy
Helps to Heal Burns
In 2016, the research found that light therapy helped burn wounds heal faster by increasing the formation of new tissue and reducing inflammation.
Another study found that red light therapy helped to make blood vessels and boost the growth of fibroblasts.
A recent study found that red light is an ideal choice for speeding up the healing process. They even found that red light reduces inflammation and boosts natural collagen production, which speeds up the healing process.
Heals Cuts and Wounds
There is a lot of evidence that shows red light treatment can help heal cuts and wounds, as well as help people recover faster after surgery.
Furthermore, researchers found that RLT can speed up the healing process and cause less pain.
For this reason, experts and researchers say that red light therapy should be used by patients to speed up their recovery, especially from cuts and wounds.
Reduces Acne Scars
Around 50 million people suffer from acne or certain acne treatment side effects, even though there are many oral and topical treatments available.
The use of light therapy to fight infections on the skin has been supported by doctors for the last two decades.
Further research has shown that red light, blue light, and phototherapy all contribute to skincare treatments and the side effects of these therapies are very few.
Treats Parkinson Disease
Infrared or red light therapy treats brain tissue affected by oxygen deprivation, mitochondrial dysfunction, or toxins.
Mitochondria is the powerhouse of the cells and helps to produce energy and even optimize chemical reactions.
The light treatment protects dopamine-producing neurons while reducing cell damage. Moreover, light therapy can also improve mitochondrial activity and reduce tissue inflammation.
As light therapy treatment targets the brain, it is likely to impact numerous aspects of neural activity. There is also evidence of improved cognitive and emotional function with consistent use of light therapy sessions.
Ideal for Depression
Light therapy was initially designed to treat Seasonal Affective Disorder (SAD), but researchers later discovered it could be used for various other treatments.
Full-body light treatment has since been discovered to treat depression and insomnia.
Experts advise that to see significant advantages from light therapy; you need to be regular and consistent.
However, we always recommend you take the suggestion of a healthcare professional first before you start taking these treatment sessions.
Deals with Arthritis Pain
Light therapy targets the cellular and particular roots of arthritis. Several types of research found that red light therapy can help to boost ATP production, the cell's energy source.
Moreover, regular use of adenosine triphosphate offers more energy to the cell, allowing it to perform better and repair the damage.
So, consistent use of RLT devices can help to increase blood flow to nerves and other tissues for better circulation throughout the body and help to reduce arthritis pain.
Preparation for Red Light Therapy
You don't actually need a prescription from your doctor to buy a therapy device. However, it's always a good idea to ask your doctor before going through any of these red light therapies.
You should always talk to your doctor about what might happen during this therapy and how you can deal with it.
Besides that, you should also ask your healthcare expert about the routine and timetable of each therapy session.
Now, when it comes to getting the best therapy devices, there are a lot of online stores and manufacturers, but make sure that the device you buy is real and has positive user reviews.
Bottom Line
Light therapy has been a big help to a lot of people, and with the high-tech advancements, it's giving a wide range of benefits to its users.
You can also get a lot of help for your insomnia, depression, arthritis, and muscle pain issues with this therapy method. However, to get the best results, you need to be consistent with these sessions and also make sure to consult with a doctor first before proceeding with any of these sessions.