A pool in your yard will make your home feel more like a resort. Considering you and your loved ones will spend a lot of time there (see here how that can benefit you), it's important to arrange it according to your wishes and needs. That especially applies to the area around the pool.
You have many options at your disposal, from concrete and natural stone to grass and wood. But more and more homeowners opt for artificial grass around the pool. If that's your choice, too, you should read on to learn how to install it, maintain it, and choose the best turf type for your pool surround.
Why Synthetic Turf Is a Good Choice
There are many advantages to installing artificial turf, like being comfortable, durable, and low- maintenance. Synthetic grass is resistant to wear and is free from pest infestations. Due to its durability, you can expect it to last anywhere from eight to fifteen years.
Not only is synthetic grass resistant to elements, moisture, and heavy traffic, but it's also safe as there are no chemicals. Thus your kids and pets can play on it safely. Plus, artificial turf is allergy-free, meaning the world if someone suffers from grass pollen allergies.
Another benefit of this cover for pool surroundings is that it reduces the risk of injuries, which are common in swimming areas. Because synthetic grass is softer than concrete, there are fewer chances of people tripping and sustaining severe injuries.
Moreover, artificial grass is designed to dry quickly and doesn't need toxic fertilizers and pest killers to grow. These chemicals can damage the environment and plant life around a swimming pool, so you'll be happy to know you don't need them.
How to Install Artificial Grass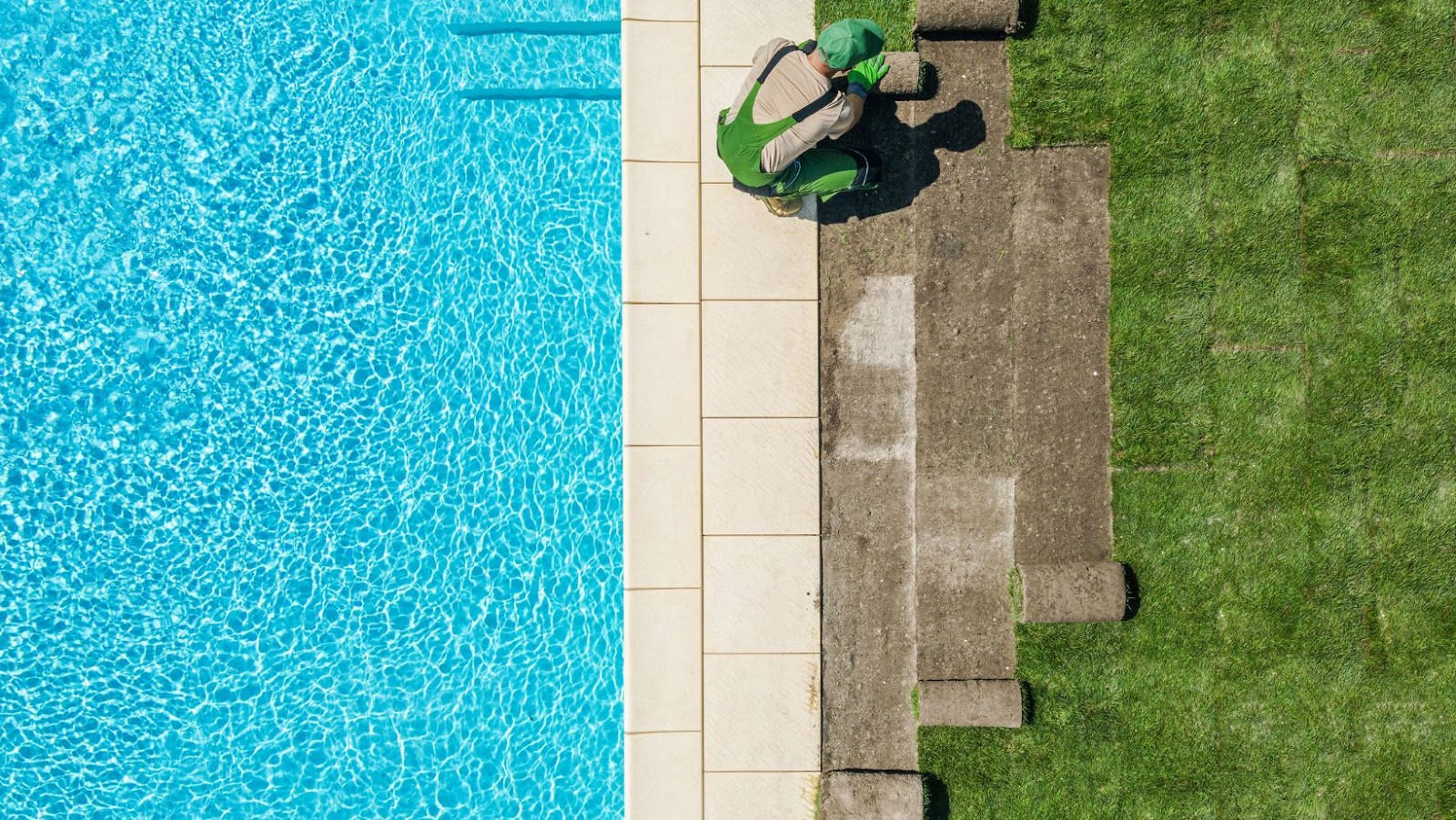 If you're planning to install artificial turf around pools, you must prepare before you begin. It means leveling the ground but keeping it under a certain angle to ensure no drainage issues.
You'll probably need to excavate and tamp the terrain, which can be done manually, but it's easier with specialized machines. In addition, tiling the area around the pool is a good idea, as it helps prevent runoff.
You'll also need to create a sub-base to support this synthetic coating and make it look good all year round. This backing can be made of various materials, such as crushed stone or recycled concrete. Lastly, you'll need to install a weed barrier around your pool.
Artificial Turf Maintenance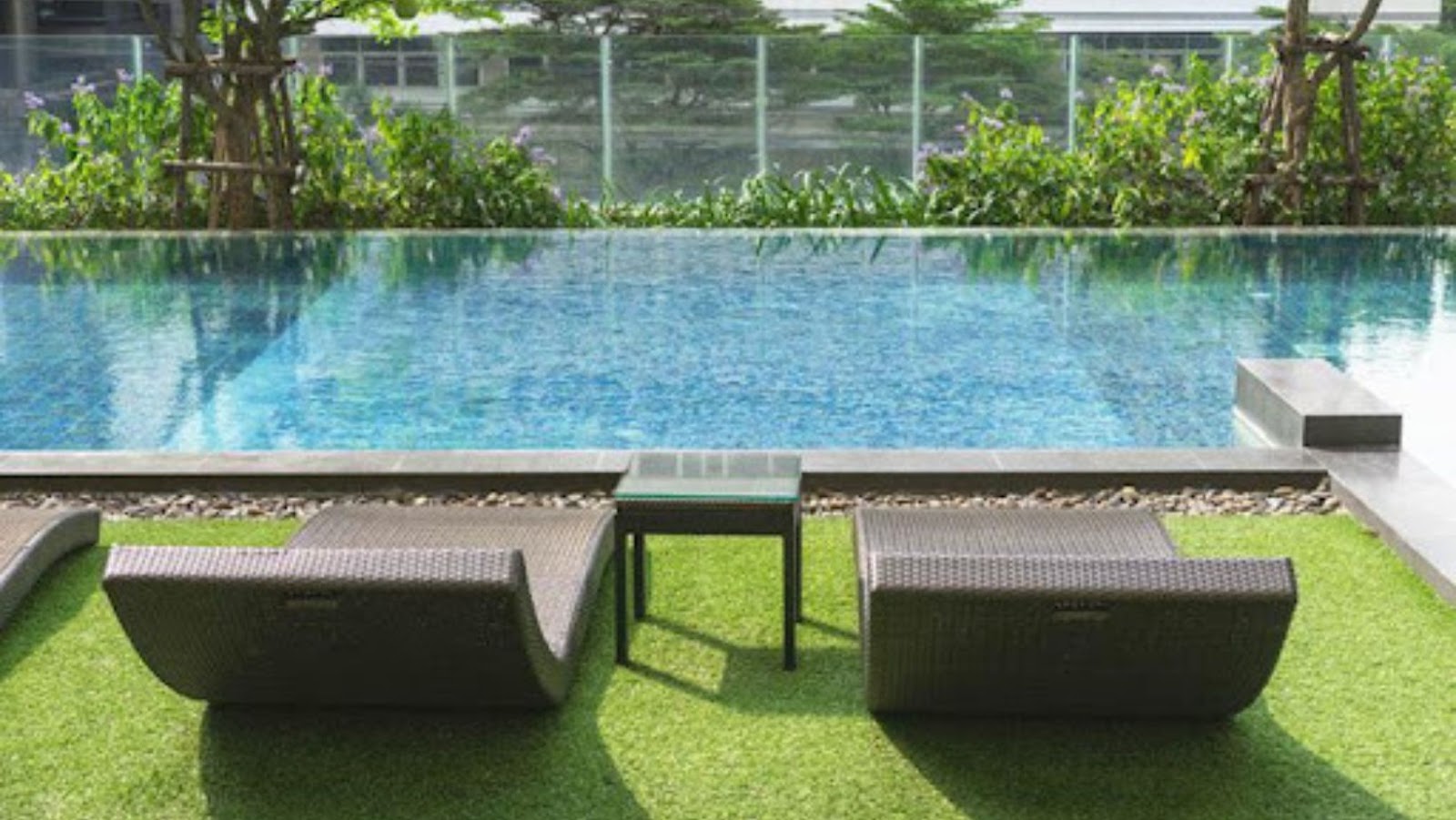 Just because something is low maintenance doesn't mean it needs no care. For example, artificial turf requires minimal effort, time, and money spent caring for it. And that means more cash for other pool accessories like fancy toys or a beautiful outdoor grill corner. But you still need to clean this cover.
The best way to keep artificial turf looking as good as new is to keep it clean. For example, you can clean spills and chlorine spots with water and mild detergent to keep your grass looking great. Using a hose is another effective way to remove stains from piles.
Also, you can keep your artificial turf looking good by brushing it regularly. Brushing can keep the blades upright, re-distribute the sand infill, and remove matted debris from the lawn. You can do this in different directions to create different patterns.
You can also use a leaf blower to remove natural debris from synthetic turf. For heavier objects, you can use a soft-tipped rake. A hose with a nozzle attachment can also be used to rinse the piles. Finally, adding a few drops of vinegar to the water will help sanitize the turf.
How to Choose Artificial Turf
When choosing the turf for your pool surrounding, there are some essential things to look for. First, this area will have a lot of traffic, especially during the warmer months. It means you need a durable ground cover to withstand heavy traffic. Natural grass can have paths, but artificial grass is more durable.
Next, you'll want to think about drainage. You can choose a perforated, hole-punched, or non-perforated turf. The latter will be more durable and will last longer. Also, look at the pile height and density. The shorter the pile height, the better. Also, denser turf will look more lush and natural.
If you're concerned about mold and mildew growth, you can choose an infill resistant to these conditions. Envirofill is a great option, as it's made from extra durable synthetic infill. It's also antimicrobial, so you don't have to worry about it tracking into your home.
If interested how artificial grass is made, visit the page below:
http://www.madehow.com/Volume-7/Artificial-Turf.html
Artificial turf for pool areas is a good option for poolside landscaping. It doesn't require much effort to install and take care of. The only real task required is cleaning it from time to time. That way, this cover can last up to 20 years.