While Euchre may not be as popular as it once was, it is still enjoyed socially worldwide. If you're looking to get better at the game and want those sweet, sweet bragging rights, the tips and tricks below will help.
How to Win at Euchre: Tips and Tricks of the Masters
Whether you're new to Euchre or haven't played in a while, the hardest part of playing is often keeping up with the current trump and understanding the ranking of the cards.
For this reason, you need to practice Euchre for a while so you gain an intuitive understanding of the game. The best way to do this if you don't have a circle of friends to play with is to play Euchre online.
After getting some practice, you can use the tips below to advance your Euchre skills and win more games:
#1 Stick the Dealer
To prevent a misdeal, playing the "stick the dealer" version of Euchre is the best way to go. The idea with this version is that if the turned-up card is passed and nobody calls a trump, you should make the dealer call it. This removes the need to re-deal the cards and makes your games a tad bit quicker.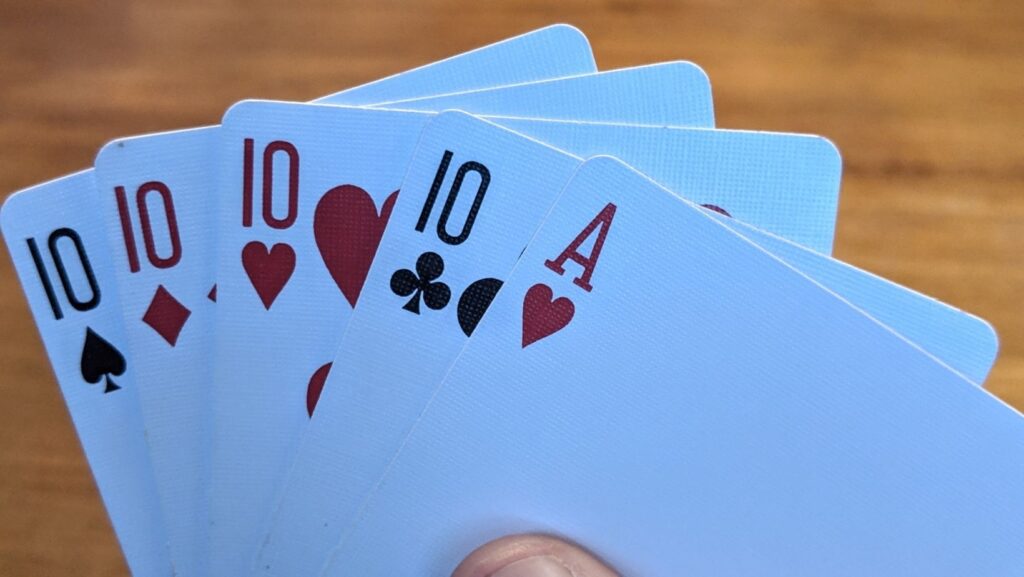 Additionally, sticking with the dealer can offer some interesting hands. In some games, you can have bad luck and have trouble winning. But in most games, you could pull off a winning hand when you didn't have anything of value in your hand if you play this way.
#2 Make Tricks Early
You may think that saving your Ace or Bower may be a good strategy like it is in other games, but that is not the case in Euchre. Playing your best cards first is an excellent way to take the pressure off your partner and win the game together.
#3 Don't Prevent Your Partner from Doing Tricks
If your partner plays before you and you see that the card will win you the trick, don't play a trump card that will make the trick instead. Save it for a later round.
#4 Don't Count on Your Partner for a Trick
Relying on your partner to make at least one trick is not the right strategy since it's not always possible. 
Many Euchre players believe in this myth that regardless of what suit is called trump, their partner will have at least one card high enough to take the trick.
There's no telling what the other player has in their hand in Euchre – be it your partner or your opponent. Counting on their partner to have at least one trick has led to more losses than any other myth in this game.
#5 Always Lead Big
Let's say you have an off-suit Ace, and your hand doesn't have any other cards in the trump suit. It's always best to lead with the Ace in situations like this.
Leading big is a good idea because it is likely that the other players have the other cards of the same suit in their hands. Playing that Ace gives you the best chance of winning the trick.
But it's best not to lead with the Ace if you have another card of the same suit. In a standard 24-card game of Euchre, every suit has six cards. If you have three cards of the same suit, chances are, one of the other players has a card that can trump your Ace.
#6 Going Alone is Rarely the Right Move
If you decide to go alone in haste, things could go wrong fast. Even if you have most of the trump cards, there's no guarantee that you have all of them. Besides, depending on what card you lead with, you could lose the first trick, improving the odds of getting Euchred.
Going alone can earn you more points faster; however, this only works if you take all the tricks in hand. Going alone could backfire unless you have a tremendous hand. 
For most players that haven't reached the advanced level of play, it's best to avoid going alone.
#7 Watch the Other Players
New players often just lay down their cards and do not watch the other players and think about how their moves affect the outcome of the game.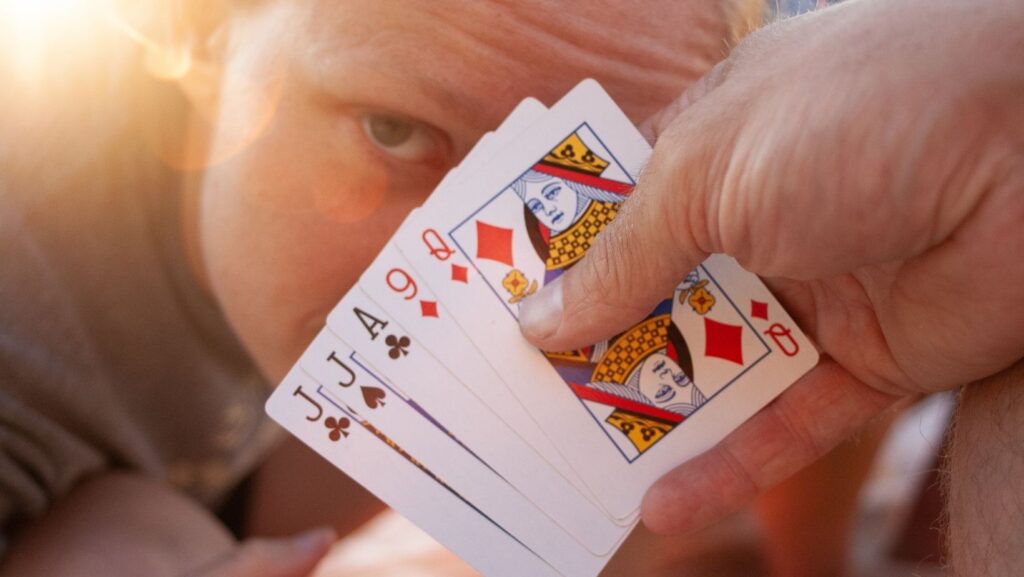 Almost every new player accidentally trumps their partner's trick. Watching the other players is a vital part of playing Euchre.
If you can memorize the cards that are played for every trick, you will have a better idea of which cards are still out there and who has them. Mastering memorizing the cards can help you win a lot of games.
#8 Remove Off-Suit Singles
If you aren't in a position to open your hand with an off-suit Ace or trump, you should try to create a void. Getting rid of cards that will, in no circumstance, win you a trick is the right move in this situation.
This will open you up for taking tricks later in the game.