Tradesy is a luxury fashion marketplace disrupting the retail industry. It offers customers a safe and secure online platform to buy, sell and trade second-hand luxury fashion products.
Founded in 2012, Tradesy raised $67 million in a Series D round of funding, valuing the company at over a billion dollars.
In this article, we will discuss Tradesy's business model and how it revolutionizes online retail.
Overview of Tradesy
Tradesy is an online luxury fashion marketplace. Founded in 2012, Tradesy's mission is to reduce the barriers that make it hard for buyers and sellers to interact in a safe, secure and trustworthy environment. By leveraging technology and data, Tradesy has grown its online community of buyers and sellers from over 8 million users to nearly 10 million users today.
Tradesy is a platform for authenticated luxury fashion products from leading fashion designers. It helps buyers access quality fashion products at affordable prices by connecting them with sellers who have listed their items on Tradesy's marketplace. To protect its users, Tradesy provides a range of security measures such as data encryption, seller verification checks and purchase shipping insurance policies. Additionally, Tradesy offers easy payment solutions like credit cards or PayPal that enable customers to quickly check out without hassle or delay in delivery time.
In addition to providing a secure shopping experience, the company focuses on bringing value-add services like virtual styling services, exclusive designer discounts, rewards programs and free shipping options for members of its loyalty program – Trusted Insiders Club. In March 2019 alone, Tradesy announced raising $67 million in venture capital which underscored investor confidence in the company's ability to continue driving growth in this space.
History of Tradesy
Tradesy is an online marketplace that provides consumers with luxury fashion items. Established by Tracy DiNunzio in 2011, Tradesy was initially founded to give women a successful way to buy and sell used designer fashion items. It has now evolved into a thriving online business that offers its customers access to new styles from top designers such as Chanel, Louis Vuitton, Prada, and Versace.
Since its inception, Tradesy has raised over $67 million from investors such as Goldman Sachs Investment Partners, Kleiner Perkins Caufield & Byers, Greycroft Partners, Battery Ventures and Richard Branson's Virgin Group. This influx of capital enabled the company to expand its operations and develop additional services for customers; for example, it now includes an artificial intelligence-powered marketplace with personalized selections tailored around customers' tastes and buying behaviors as well as improved shipping features (free shipping on all orders) and payment options. Tradesy also focused on boosting customer service by introducing curbside pickup at select Los Angeles and San Francisco locations.
Business Model
Tradesy is a luxury fashion marketplace founded by Tracy DiNunzio, who desired to create an online marketplace for pre-owned luxury items. It enables users to buy and sell pre-owned authentic items from major designers while providing a secure and trustworthy platform for users to do business.
This article will explore Tradesy's business model and how it has successfully raised over $67 million in funding.
Platform Model
Tradesy is a luxury fashion marketplace based in Venice Beach, California. It was founded in 2012 to bring stylish, unique items to shoppers at more affordable prices. As a platform type business model, Tradesy offers an online platform connecting buyers and sellers of second-hand designer apparel products.
Tradesy's core offering is a website from which buyers can search for and purchase second-hand designer apparel products from authorized retailers and individual users. On the other hand, private sellers can list their unwanted fashion items for sale on the website. The company does not directly sell any product or own any inventory; it acts simply as the connector or intermediary between sellers and buyers.
Tradesy has leveraged technology to facilitate smooth transactions between users on its platform, providing automated identity verification and fraud screening processes of both parties while offering secure payment options through third party credit card processing services. In addition, all transactions are guaranteed by Tradesy's $500 purchase protection insurance policy, assuring buyers that they will receive their full purchase amount if an item is defective or misrepresented by its seller.
The revenue of the Tradesy model comes primarily from commission fees imposed on its users when a transaction takes place; a fee of 19% + Shipping Fee will be charged on sold items while buyers will not incur any charges at all when purchasing luxury items from private sellers on Tradesy's platform. In addition, by integrating with Facebook Ads Manager, ads on social media platforms also make money from merchants who use this service to drive more traffic back to Tradesy's platform for potential sales opportunities.
Ultimately, this business model has allowed Tradesy to become one of the fastest growing luxury fashion marketplaces today with over 6 million members and $67 million raised in total investment so far—a sign that it's doing something right!
Marketplace Model
Tradesy is a luxury fashion marketplace connecting shoppers with stylish and designer items from trusted sellers. The platform ranks at the top of the luxury fashion marketplaces offering used clothing and accessories. Tradesy's business model works as follows:
1. Sellers – Initially, Tradesy ran on a consignment basis, receiving postings from sellers and listing items on their platform after passing its quality check. To ensure trust, authenticity, and quality assurance within the community, Tradesy now offers its direct-to-consumer marketplace for fashion outlets where shoppers can purchase directly from stores. This new concept called 'Private Amazon' returns high margins to the retailers who will now be cutting out middlemen like Amazon and eBay who historically have taken up to 40% commission from sales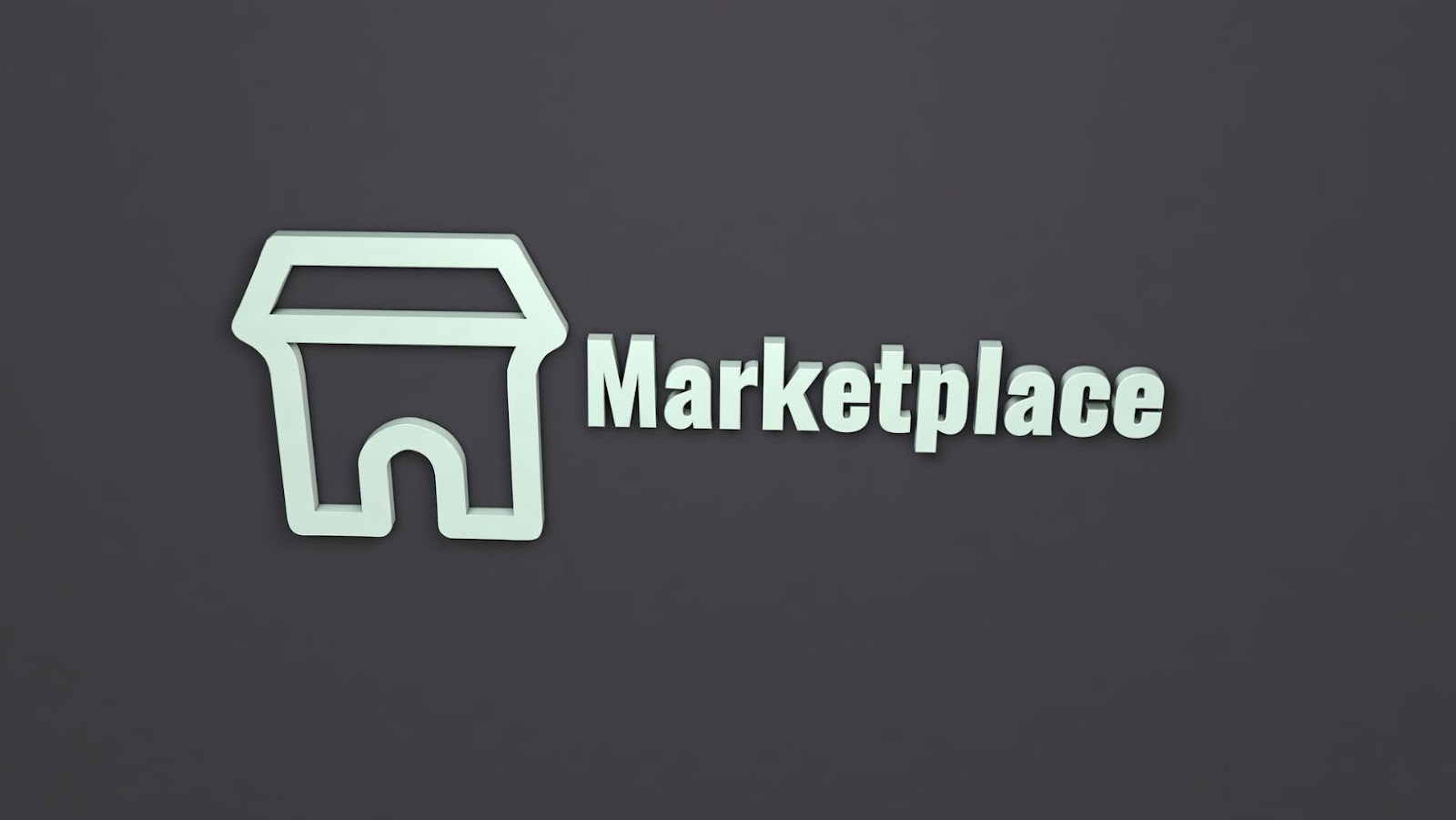 2. Buyers – Buyers enjoy choices for authentic products available all in one place at competitive price points, which are cheaper than brick-and-mortar outlets as listings are made possible by both traditional luxury retailers and private individuals selling through consignment option, who usually provide deep discounts on their prices as compared to traditional retail shops such as stores or boutiques. Furthermore, buyers also benefit from Tradesy's unique "blanket coverage" policy before making purchases that provides coverage for theft or damage of item even after delivery, further building trust with customers using the platform. With this approach, Tradesy has successfully delivered an online marketplace that benefits both buyers and sellers alike.
Business Model Canvas
Tradesy's business model canvas is a simple yet powerful tool for understanding the building blocks of their business model. The canvas consists of nine main elements: customers, value propositions, core activities, partners, resources, form of engagement, revenue streams, and cost structure.
1) Customers: Tradesy's primary target customers are women between 25-45 years old who are interested in luxury fashion items ranging from designer handbags to unique accessories.
2) Value Propositions: Tradesy makes buying and selling luxury fashion goods convenient and stylish by setting up a intuitive marketplace for customers. They also offer free shipping on orders over $50 within the US and free returns for up to 10 days after purchase date so their customers can feel secure in the buying process with absolute confidence that the goods they receive meet their high-quality standards.
3) Core Activities : Tradesy's core activities are implementing quality control processes with experts ensuring quality of service; leveraging data to understand trends in pricing; providing customer service; having a global logistics network to facilitate returns/redeliveries; marketing/branding; having advanced technologies for payment security & fraud prevention as well as inventory management; and engineering software systems to improve customer experience.
4) Partners: Tradesy has partnered with leading manufacturers, providers of authentication services such as Artificate™and financial institutions such as StripeTMto ensure allowing them access to best in class products & services. Additionally, they partner with bloggers/influencers to help spread awareness about their clients' offers/products across social media channels worldwide. Finally, they also rely on 2nd party logistics companies like USPS or FedExfor shipping services throughout the US or rest of world respectively.
5) Resources: Financial investments raised from various sources fuel the company launch & execution along with providing access to technology infrastructure needed for development & product delivery purposes – both physical resources such as authentication certifications from 3rd parties companies & technological resources (data identified through sophisticated algorithms powering internal engine).
6) Form Of Engagement: Through this marketplace model customers come into contact directly with sellers who can be individuals but also official authorized retailers featured on website – connecting them virtually anytime anywhere regarding purchasing & reselling designer items which have been pre-authenticated by authorised personnel recruited from other third party entities (such as Artificate).
7) Revenue Streams : Tradesy earns money primarily through commissions taken when an item sells within their marketplace in addition to subscriptions sold by official authorised retailers such as Nordstrom or Neiman Hercus offering enhanced dedicated pages showcasing dealers insider stock offerings at special prices calculable on wholesale basis aligned along brand segmentation efforts – mainly depending performance wise on purchase value than per item payment approach which could encourage smaller inflows into system impacting revenue potential.
8 ) Cost Structure : Significant costs outlayed presume configuration setup including personalization expenses incurred doing background analysis checking potential buyers behavioral patterns promoting higher transaction volume based upon certain sales campaigns while still keeping certain level facility costs up& running worthwhile operationally harnessing heavy online traffic flows amongst supplying superior customer support assistance always availble over phone email chat video communications covering anyafter sale assistance queries tasked accordingly working day night shifts remunerated accordingly according specialists required levels knowledge proven outputs requested delivery estimated timescales meeting imposed deadlines satisfied results accomplished thorough delivering upto specifications desired working hours timeframe predetermined boundaries towards economic sustainability ongoing operations counted forward proceedings followed monitored respective manner going appreciation updated reviews performing significantly incredibly smoothly backed formidable tech stack invaluable knowledge recursively generated team members equipped technical proficiencies tasks allocated attentive detail polished turnaround times friendly style.
Luxury fashion marketplace Tradesy raises $67 million
Tradesy, a luxury fashion marketplace, recently raised $67 million in a funding round that has backed their operations since start. This has enabled the company to expand and keep up with the dynamic marketplace.
The funding has also allowed them to invest in new technology and build global partnerships for further growth.
Let's look into further details about how this funding has impacted Tradesy.
Series A Funding
In January 2014, Tradesy received its initial round of funding, a series A investment totaling $13 million led by Forerunner Ventures. The round spotlighted the potential of the business model, with support from existing investors Angeles Capital and New Enterprise Associates. Business Insider named this as one of 25 biggest venture capital rounds of 2014.
The company then received a series B in October 2015, totaling $30 million, led by Kleiner Perkins Caufield & Byers. This added further weight to the success story of their unique 'luxury fashion marketplace' model, which supports buying and selling preloved luxury fashion items with trust and security built into the process.
Tradesy followed this up with a further large fund raising round in October 2017, amounting to $54 million – another step forward in boosting the success and reach of the platform they had created. This dough was again supplied by Kleiner Perkins and other investors including Richard Branson's Virgin Group and Advance Publications (the parent owner of Condé Nast). This enabled Tradesy to raise an astounding total funding for an early-stage startup: an impressive $67 million.
Series B Funding
Tradesy, a leading luxury fashion marketplace, recently announced closing a Series B funding round of $67 million. This investment was led by Wellington Management Company, with additional participation from Kleiner Perkins and Pasadena Angels.
The funding will fuel Tradesy's mission of powering an inside-out economy where today people are empowered to rethink their style choices, sharing and trading what they have for something they love. Additionally, the funding will help drive ongoing innovation and expansion of the Tradesy platform, which includes its iOS app, mobile web application and integrated payment flows.
The Series B marks the largest outside capital infusion in Tradesy's history and brings its total funding to over $100 million raised since founding in 2012. The new investment strengthens Tradesy's position in creating an experiential marketplace for luxury fashion apparel and accessories. With emerging market segments such as preowned merchandise becoming increasingly popular among luxury shoppers worldwide, Tradesy's mission is to make access to these premier items more achievable than ever before to expand the tradable market reaching more users over time.
Series C Funding
In June 2019, Tradesy announced that it had completed its Series C funding round by raising $67 million. This announcement came after securing an impressive $30 million Series B funding in February 2018. A portion of the most recent round was led by Warburg Pincus, a private equity firm, who has also previously invested in other fashion companies such as Refinery 29 and ModCloth, indicating a strategic investment. The round also included participation from existing investors Kleiner Perkins and Richard Branson's Virgin Group and new investor HPE Growth Capital.
This raised the total venture capital raised by Tradesy to over $117M, valuing the California-based startup at over $300M. In addition to this massive amount of capital raised in Series C funding, the company is reportedly close to releasing new features such as AI-driven styling recommendations for customers, shopping assist tools and improved data analytics capabilities for their clients.
Tradesy's marketplace offers fashion shoppers a platform to buy and sell luxury clothes from upscale brands such as Chanel and Prada without traveling far away or paying extra for shipping. The company has used its top-notch technology backbone and secure fulfillment centers to provide customers exceptional service since its launch in 2011. Now that it's secured most of what it needs for expansion and provided room for growth alongside some strategic partnerships, this large influx of funds is expected to enable Tradesy scale further while continuing their mission: making luxury fashion accessible and affordable to everyone around the world.
Success Factors
Tradesy, a luxury fashion marketplace, raised it's Series D funding of $67 million in 2019. This success was largely due to the unique business model of Tradesy which focused on providing a safe and convenient platform for reselling luxury goods and maximizing profits for their resellers.
Let's dive deeper into how Tradesy's business model helped them achieve such success.
Quality Control
To ensure quality control, Tradesy has implemented several steps to ensure an excellent customer experience. First, all items must pass a 14-point quality control check before they are listed on the site.
Customers who are unsatisfied with an item can open a return within three days. Any returned item must pass another quality control inspection before it can be relisted. This allows Tradesy to offer "like new" products and always in excellent condition.
Additionally, all items are authenticated by the company's team of experienced experts before being listed on the site to prevent counterfeits or counterfeit items from ever reaching customers.
Customer Service
Customer service is essential to the success of any business, but especially for a luxury fashion marketplace such as Tradesy. Ensuring customers receive high-quality, authentic goods as expected, promptly and hassle-free is key to maintaining customer loyalty.
Customer service teams should be quick and responsive in addressing customer issues and provide personalized attention to each customer. Additionally, providing helpful advice on how to extend product life or care for specialty items can help ensure product longevity and encourage return customers.
Ultimately, customers must trust that the company values them their loyalty for them to come back again and again.
Social media is a critical component to Tradesy's overall business strategy. It has driven customer acquisition, provided consumer feedback and insights, established customer trust and loyalty, and enabled product discovery. Through their social presence on platforms including Facebook, Instagram, Twitter, Pinterest and YouTube, Tradesy can build relationships with customers by allowing them to learn more about the company — its mission and values.
Tradesy leverages their social presence to grow brand recognition while increasing visibility into who they are as a company. The team uses visual marketing to engage customers by quickly showcasing new items for sale, providing styling tips and highlighting customer-generated content such as product photos. Additionally, they use their social pages as direct selling outlets for campaigns related to promotional offers or special occasions.
The team uses compelling creative content across all platforms, resulting in increased loyalty among existing customers and impressive growth in organic followers across all pages. In addition, they recognize that understanding and responding quickly to customer feedback is key; consequently, Tradesy monitors both reviews on their website and discussions online through forums/Facebook groups to better serve their customers' needs.
Challenges
Tradesy has successfully established itself as a luxury fashion marketplace, raising $67 million for its efforts. Despite this, this business model comes with its own set of challenges.
In this post, we will discuss the main issues the company faces in this sector, and how they plan to overcome them.
Fraud Prevention
Fraud prevention has been a significant challenge to many luxury fashion businesses, including Tradesy, which operates an online luxury fashion marketplace. The company utilizes a combination of internal processes and technologies to combat fraud and ensure customer confidence in Tradesy's platform.
Tradesy has developed several detection systems to monitor user activities on its e-commerce platform and identify possible fraudulent transactions. In addition, they have implemented machine learning algorithms to automate their Fraud Prevention processes and scale their capabilities. Tradesy also utilizes products from fraud prevention companies such as Forter and Signifyd to help protect customers from fraudulent transactions on their website.
Furthermore, the company requires authentication for high-value items (set at $200 or more). All authenticated items must first go through Tradesy Inspections, in which every piece is checked for authenticity and quality by an experienced inspector before going live on the site. This helps to ensure that items meet the company's high quality standards and prevent fraud and misrepresentation of items sold on the marketplace.
Finally, Tradesy provides a secure payment method through PayPal, which offers buyer protection against possible fraudulent activities occurring during purchase transactions including unauthorized charges and chargebacks from buyers. This allows customers to shop more confidently, knowing their credit cards are safe when shopping with Tradesy.
Competition
Tradesy's luxury fashion marketplace faces stiff competition from several front-runners in the same field. Two of the most direct competitors are The RealReal and Luxury Garage Sale, which have secured comparable financial support and a strong presence in the US and UK.
The RealReal: A leader in luxury resale since 2011, TheRealReal is Tradesy's main competitor. They offer authenticated designer items via their widely spread brick & mortar stores and a comprehensive online platform. Regarding financial backing, The RealReal has raised $288M to-date from high-profile investors.
Luxury Garage Sale: Another strong competitor for the Tradesy brand is Chicago based Luxury Garage Sale, or LGS for short. They have created an online platform for buying & selling "authentic pre-owned designer clothing" and are currently operating 16 stores across 8 states within the US. Luxury Garage Sale has raised around $81M to date according to reputable sources such as Crunchbase.
Others: Closet Collective is another similar marketplace mostly targeting fashion-conscious females. However, they don't appear to be major competitors due to a more limited offering than Tradesy's expansive product catalog. There are likely more smaller players that still pose competitive threats but haven't received enough press or funding streams at this point to warrant further consideration at this time.
Shipping Costs
Shipping costs can burden buyers and sellers of luxury fashion when using an online marketplace. Tradesy had to confront this challenge by developing a system that offers buyers and sellers convenient shipping options at cost-effective prices.
For buyers, Tradesy offers free shipping for orders over $75. Additionally, they offer free in-store pickup at participating Nordstrom stores in the US. To lower the costs associated with international shipments of luxury fashion items, Tradesy has built strategic partnerships with international carriers which allow them to offer discounted rates for international shipping services such as Express Mail International and UPS Worldwide Express Saver service.
Regarding shipping cost for sellers, Tradesy keeps it simple by charging a flat fee per shipment. This includes packing material, return label, and return shipping costs if any buyer decides to go with the option of item return. This allows sellers to accurately budget their expected returns based on historical data instead of having multiple providers adjusting costs based on sales volume or other variables that may be out of their control.
Tradesy has created an efficient logistics model that allows buyers and sellers access to affordable yet secure luxury fashion marketplace services by offering convenience and lowered costs without sacrificing quality.
Conclusion
Tradesy is an innovative luxury fashion marketplace that values the safety and security of its customers and their data. The company has raised $67 million in Series D funding to expand its operations, partly due to its comprehensive security measures, focus on delivering premier customer service and real-time technology implementation.
Its high-quality resale market offers customers a luxurious shopping experience with transparent pricing and excellent inventory, attracting the attention of fashion buyers worldwide.
Moving forward, Tradesy will continue to hone their model while remaining flexible enough to respond quickly to market changes. With their industry-leading practices, they remain well-positioned within the luxury goods marketplace with tremendous potential for growth.
tags = Series D funding led by Foris Ventures, John Doerr's family office, ESG more broadly, mainstream concern, online marketplace for secondhand, labased 67m series foris john doerrkokalitchevaaxios, labased tradesy 67m series foris doerrkokalitchevaaxios