Are you concerned that either you or a loved one are no longer able to manage in your home due to age?
Moving to a care home is a significant decision and one that can often be met with apprehension and uncertainty, especially as many older people associate this move with a loss of their freedom or independence.
However, for many of these individuals, this transition can offer a new lease on life, providing them with the support, care, and social interaction that they need to thrive, which they may not have been getting when they lived in their own homes.
So, why might moving into a care home be the right move for you, your parents, or another relative?
More Care
When someone is living in the community and has issues such as arthritis, they may struggle to manage this ailment well, thus impacting badly on their quality of life.
One of the key benefits of moving to a care home like Signature at Eastbourne is the increased level of care and support that residents receive. Care homes are staffed with trained professionals who are able to provide around-the-clock care and assistance with everyday tasks like dressing, grooming, and medication management. For individuals who may struggle with these tasks due to mobility or health issues, the extra support can make a significant difference in their quality of life and will free up time for hobbies or social interactions.
Speaking of social interactions, in addition to the physical care that is provided, care homes also offer a range of social activities and events that can help to combat loneliness and isolation. Many care homes have dedicated activity coordinators who work to create a varied and engaging calendar of events, from arts and crafts sessions to music and dance classes, as well as outings and day trips.
These activities can not only provide a sense of purpose and enjoyment but can also help to build new friendships and relationships and certainly promote more social engagement than would have been had sitting indoors. Indeed, having a friendship group is exceedingly important later in life, as it staves off mental illness and has even been shown to slow down cognitive decline that typically begins to show itself after the age of 65.
Adaptations
For individuals who may have previously struggled with maintaining their independence, moving to a care home can also offer newfound freedom and flexibility. Care homes are designed to cater to the unique needs of their residents, with adaptations and adjustments made to support mobility, accessibility, and comfort. This means that individuals are able to live their lives as independently as possible, with the added reassurance of knowing that help is always on hand if needed.
Improved Diet
This is not to say to anyone out there that their cooking is not good, but as people get older, they may struggle with preparing fresh, cooked meals. This may be due to issues with their backs, their arms, or, indeed arthritis in their hands and wrists.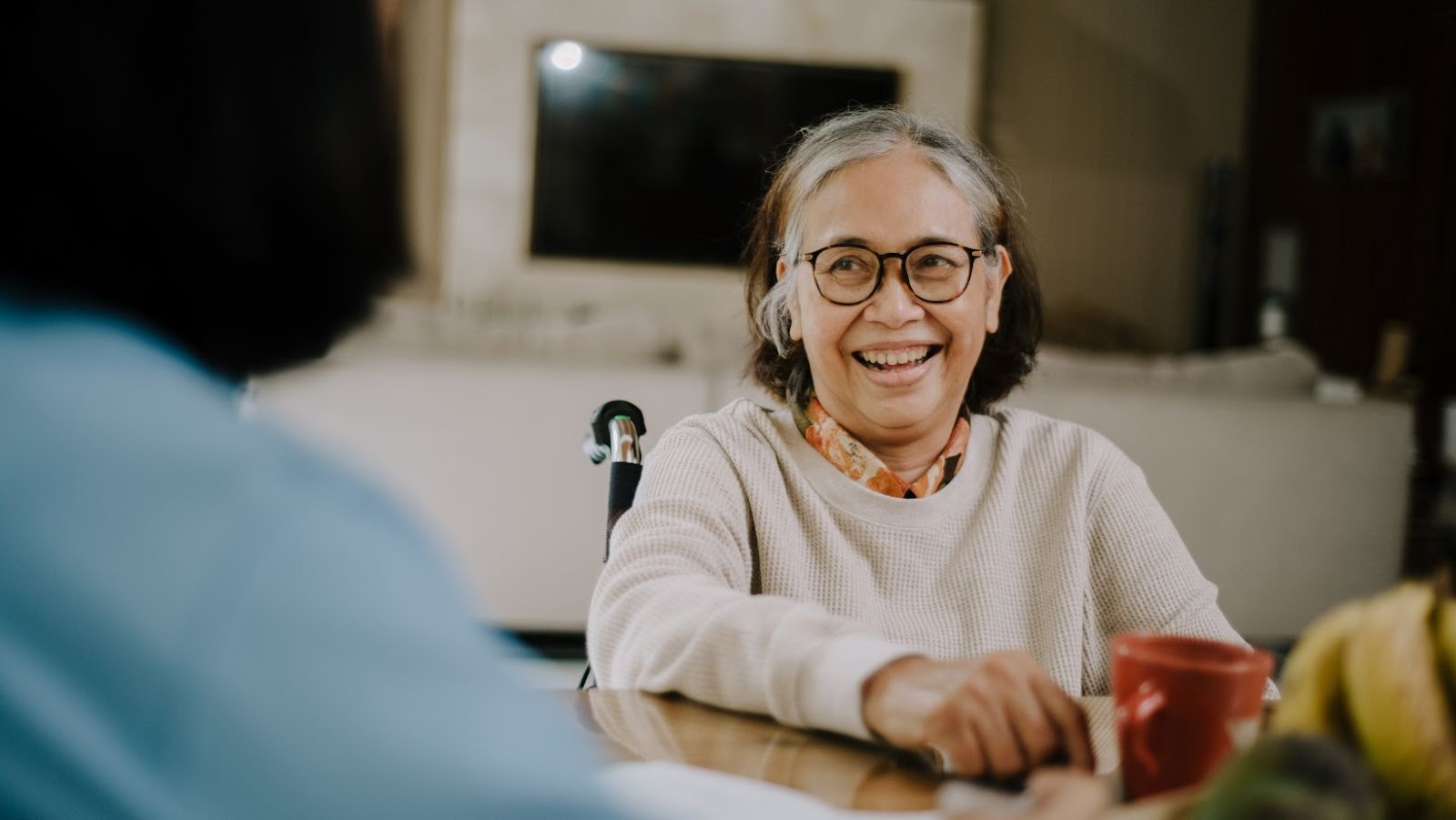 So, it is an unfortunate fact that many older people resort to meals that are microwaveable. These meals are often drenched in fats, salts, and sugars, which are not ideal for an older person's diet and will have a bad impact on their physical and mental health.
Thus, by moving to a care home, a person is free to experiment with different foods and drinks and will likely have a dietary plan laid out for them if they so require it.
No Chores!
Care homes are staffed with an array of people, from nurses to cleaners, all of whom will help you or your elderly relative to maintain their independence for as long as possible. Of course, there is the added advantage that if your loved one cannot do chores, such as cooking, cleaning, or dusting, they don't have to! Thus, giving them more free time to engage in socialization, hobbies, or even games. Not a bad way to spend your golden years, is it?